We celebrate Thanksgiving with the only appropriately-themed movie we know, "Addams Family Values"!
Technical details: Watched the movie in high definition via the Amazon streaming service, with a total run time of 1:34:11. For best results, view the same version whilst listening, ensuring times match up from the beginning.
Rent the movie on Amazon below, or watch for free with Amazon Prime!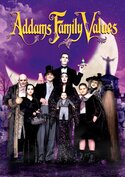 Related Episodes